Giving (and receiving) gifts is seen as an important part of life in Korea. I am not sure I can cover all scenarios, but I will talk about some of the situations I have found myself in and the types of gifts I have given and received.
My fiance is Korean and her mother is always giving me gifts of food too. In her case it is because she doesn't speak a word of English, so to show that she likes me and has accepted me as part of their family she gives me food every week. My shopping bill is a fraction of what it otherwise would be because when my fiance visits, she is loaded like a pack horse with food her mother is giving me.
I find gift giving and receiving at school a rather interesting topic and a pleasant cultural difference. I regularly receive (particularly around exam time) gifts from parents, students and even other teachers. Often I don't know what the gift is for or who it is from. Is it because I don't smell as bad as other westerners, or is it because I greet them with a friendly smile every morning (well, most mornings). Here is a general list of the kinds of gifts I have received.
lolly pops

small cartons of milk

vitamin juice

hamburgers

rice cakes

fried chicken

chicken nuggets (pictured below)

soft drink (Coke, Fanta, Pepsi)

fruit (strawberries, water mellon, korean mellon, oranges)

pizza

ice cream

orange juice
So, as you can see they are not "oh wow, that is amazing" kind of gifts. They are intended to be small gestures to show your appreciation for the things people do for you. Unless it is a formal occasion, there is no need to wrap the gift.
If the teachers at your school give you gifts from time to time, take it as a sign that they are trying to include you and make you feel welcome. You can pay the "gift debt" quite easily. You don't need to give gifts of expensive chocolates from your home country or touristy nick nacks. Stop buy your local fruit store on the way to school one morning and pick up a box of strawberries or a watermelon to leave on your staff room table for all to share.
I must admit. I have not given many gifts to the teachers I work and share an office with. It has been a few months since I bought some food for them so I really should buy something for them again. Last time I gave them some Tim Tams (a popular chocolate biscuit in Australia which is often eaten with coffee) and also bought some things from from Paris Baguette. If you are looking for a quick and easy gift to show your appreciation to someone, stop in at a Paris Baguette. You can pick something up that tastes good for under $2 (2000won). The stores are freaking everywhere, so you won't have any trouble finding one.
In a blog entry a few months ago (
here
) I noted some good gift ideas. I will re-iterate them below.
Some good Australian gifts for Korean children are:
Pens or Pencils with Australian animals or themes.

Australian stickers

Koala clips (these come in a pack of 12 from most cheap shops)

Balloons with the Australian flag on them.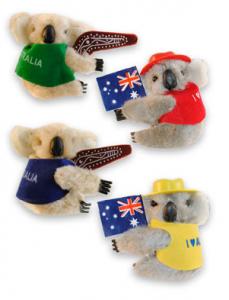 Some good Australian gifts for Korean adults are:
Coins (you can get special coin sets from the mint)

Australian landscape books

Shot glasses with Australian animals or themes (the drinking culture in Korea is quite strong)

Small bowls with Australian animals or themes (in Korea meals are served with many side dishes. Small bowls are always useful).

Tim Tams - For anyone not familiar with Australian cuisine, this is a type of popular chocolate biscuit. You can't go wrong with these, though some Koreans do find them very sweet.

Australian wine - There are some very good wines produced in Australia.

Australian themed place mats.

Australian themed tea towels.

An Australian flag. You can pick up cheap flags for between $3 and $6 each. Good quality flags cost more.
That is all I can think of right now. I will probably add some other instances once I get married.